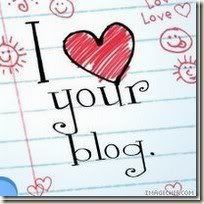 Look!
Elemmaciltur hearts my blog
! Even though I hardly ever post! So thanks, that's really nice to hear/read/whatever.
Here are the rules:
1. The winner can put the logo on his or her blog.
2. Link the person you received your award from.
3. Nominate at least 7 other blogs.
4. Put links of those blogs on yours.
5. Leave a message on the blogs of the people you've nominated.
Okay, so 1! Did that. 2! Did that too. 3: seven! I'm only asking because
Amy
was the first person I was going to tag, but someone else beat me to it, and she only had to list four blogs. Just sayin'. And of course the other person I would have tagged is Elemmaciltur.
So, hm. This reminds me that I really need to update my blogroll. Blogrolls, actually, on both blogs. And put the Big Knit graphic on my sidebar. And answer a bunch of emails. And update the
zur
Lederhos'n
sock
photos
. Elemm took the photos, btw, many thanks.
Whoo. Suddenly I feel like taking a nap.
Okay, to tag: Since my knitblog was tagged, I figure I should stay in-genre, though actually my favorite blogs are the ones that step out of the genre a lot.
The Diva Knits
is a case in point: yes there is knitting, but also TV, education, immigration, and zombies! Who doesn't love zombies? In a strictly platonic sense, of course.
So That Happened
... is another one. Knitting, pop music, food, rants, and travel! Also, probably the only person who truly understands how I feel about Hall & Oates.
The Panopticon
, of course, totally heart that. Though I think he might be too A-list to do memes. Great pictures on
Yarnissima's blog
. Also
Crazy Aunt Purl
, plus she's funny! And finally I'm gonna use Elemm and Amy as my last two because even though they've already been tagged and certainly shouldn't have to do this again, I really and truly do heart their blogs.